He creates the fruit of the lips
morning by morning
主は朝ごとに
唇の実を与えられる
MY STORY
Morning by morning, God's been blessing me with new songs on my lips…
I have tried a new way of my devotion since March of 2017, recommended in the message on one Sunday worship service.
Each morning, while playing instrumental worship, hymns or gospel songs, first of all, I do not start singing nor praying, I will just go to meet my Father, Jesus and Holy Spirit. And you know on one morning, it takes some time. On another morning, it takes only a moment. But I'll just wait anyway. Then I greet Him good morning and we just have time together. When I soak myself in encounter in this way, I feel the need. I really want Him to speak to me. I thirst for His Word.
Then I open the Bible and eat the living word of God which is prepared for me to survive that day. That's my breakfast of my soul.  The Word that remains in my heart from which I read that day, I read them aloud adding some melodies because it makes easier for me to memorize them all day long. You know I'm a musician! Just start reading them with a guitar in my hands, a small song is given. Every time it can be done in 10 minutes, 15 minutes short time. So there is not enough time to struggle to create a sophisticated tune. That's good for me. I believe that it is such a thing to be given instead of creating it.
Usually I do not listen to my own songs much because I'm often forced to see myself in the songs. However when I listen to these songs given each morning, they just sound like the worship songs created by someone else. And it's the first experience for me to feel that way. Then by playing the song recorded by my iPhone, I will go down on my knees and worship Him and pray.
The songs like such fruits on my lip, they have already be given, 200 songs. I named these fruits on my lips, "Morning Songs / Asa-no-uta (Japanese)." And because they are given fruits, I think that it is natural and good to share with you all. So I have decided to make recordings in order and make videos too, one by one.
While you're walking in the park, sitting in your house, with your brothers and sisters in your church … packed in a commuter train.
Wherever you are, you can listen, watch and sing these "Morning Songs" at anytime, any way you like.
Through "Morning Songs", I earnestly hope that as many people as possible will be guided to experience such a sweet time with God and to enjoy peace and joy that cannot be expressed in words.
2017年の3月から始めた、新しい、朝の神さまとの二人っきりの時間。
きっかけは、ある日曜礼拝で薦められたひとつのアプローチでした。
インストルメンタルのワーシップ/讃美歌/ゴスペルの曲を流しながら、
まずは自分で賛美するでもなく、祈るでもなく、
父なる神と、Jesusと、Holy Spiritに会いに行きます。
おはようございますとあいさつして、ともにただ時間を過ごします。
この時間を、神さまと「シャバダバする」と僕は呼んでます(笑)。
こうして出会いの中に身を浸していると、今度は語ってもらいたくて、
聖書を開き、この朝自分が食べるべき、生きたことばを食べます。
そして、その聖書箇所の解説を学んで、ことばを消化します。
そして、その日読んだ聖書の箇所を、声に出してメロディを付けて
読んでいたら、小さな曲が出来るのです。
毎回、10分、15分の短い時間で出来ます。
創るのではなく、与えられるとはこういうことなんだと思いました。
僕は、自分で創った曲は自分で聴くことをあまりしないのですが、
これらの曲達は、聴いていても、まるで人の曲のように聞こえるのです。
そしてその与えられた曲を流して、祈りに導かれていきます。
そんな唇の果実のような曲達が、気がついたら現在まで、もう200曲。
僕は、それらの果実達に、「Morning Songs/朝の歌」と名付けました。
そして、与えられた実なので、みなさんと分かち合うのがいいと思い、
順番にレコーディングして、動画も作ってみました。
通勤電車の中で、公園で、歩きながら、お家で、教会で…。
いつでもどこでも好きな時に、聴いたり、観たり、歌ったりしてもらえれば何よりうれしいです。
Morning Songsを通して、一人でも多くの人が、神さまとのsweetな時に導かれ、言葉に出来ない平安と喜びを味わって欲しいと願っています。
Acknowledgments / 感謝
I'd like to give a special thanks to Pastor Nate Reutter. He's the one who introduced us a new way of devotion time in his message in one Sunday morning service. He's also a professional musician just as same as me. So he would understand how hard sometimes for us pro-musicians to rejoice purely the music of God just like a child. Surely he gave us a opportunity to be liberated by a new way. It's been a real blessing for me since then. Thank you for inspiring us!
On the very first day when a Morning song came upon me, my Beloved wife Miwa came to me and encouraged me so much by saying "It's great! Better to keep going!" You know, every husband is waiting for his wife to say a few words of encouragement. For me it's more precious than anything else. And I'm full of gratitude for that I could live with such a pure woman who has a passionate love for God. She's a fire. I'm honored to be able to grow together with you.
Logos Ministries: I've been blessed using this Bible messages to study Bible for devotion in the past few years. Thank God for the work of Pastor Kiyo Akashi.
YouVersion: For the people living in the modern digital times, this Bible app is one of the best tools to get to the Bible. Hallelujah to the work of the whole YouVersion team.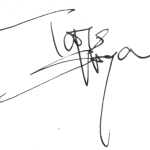 Tats Shioya  / 塩谷達也
January 2018